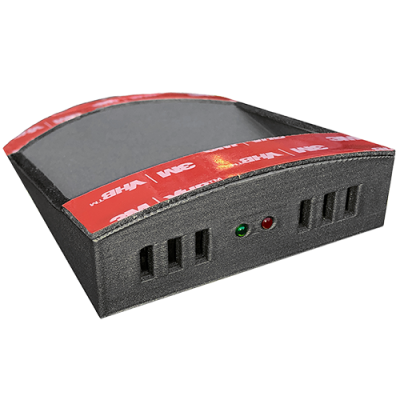 2 status LEDs, cooling heatsinks and temperature protection built-in
Forward facing Visual Awareness Light system.
Six extremely bright red or white CREE™ LEDs (±3000-3400 Lumen!) built into an elegant, low profile Space Grey (Nextel like) enclosure, mounted in the front of the canopy. Out of sight for you, but not for others.
AeroFlash is well visible at distances up to 3km. Two status LEDs instantly show you which operating mode the system is in: AUTO or ON.
AeroFlash features over-temperature protection sensors built-in, with cooling heatsinks.
Suitable for many gliders with canopies opening vertically or sideways.
White or red LEDs? What is better?
After many hours of flight testing, our conclusion is that red LEDs offer the best all-round visibility in the most dangerous situations. A RED flash in a hazy/cloudy sky or white snowy background, with a white glider clearly stands out best, just like same way as one would put red warning markings on their wings. Red light warns in the most unfavourable situations and means danger.
White LEDs however are better visible on a green/brown background, but it may be likely that you would have spotted the glider already. White LEDs have the benefit that they have a slightly increased brightness compared to red…
Your choice…
Extremely smart, yet simple. Activate and forget.
Suitable for aeroclubs. Activate and forget.
An easy to understand and comprehensive installation & operation manual is available.
Configure the system with our Bluetooth AeroFlash Connect smartphone app.
Update the firmware through your PC or Mac with our AeroFlash Tool.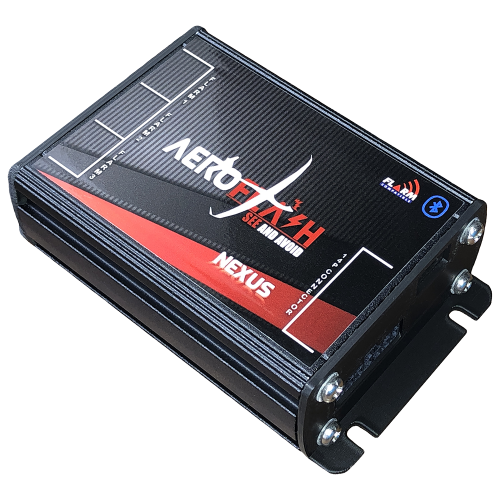 Nexus
-noun
"A central point linking a series of two or more objects to form a single entity"
Simply brilliant. No compromise.
FuselageFlasher
Elegant and aerodynamic. 360º. On top, bottom, or both.
Measuring at 110mm long, 15mm wide and only 11mm high, the AeroFlash FuselageFlasher is extremely elegant and streamlined, made out of a super clear UV-resistant epoxy. Its small size does not say much about its ability: with 16, yes sixteen extremely bright red or white CREE™ LEDs (±7500-8500 Lumen!), the strobe is very well visible at distances up to 3km.
Mount it on top of the fuselage, on the bottom, or BOTH! Connect up to two FuselageFlashers to Nexus. No compromise. Only one small hole of 4mm is required for the cable. Mount it on a wheel door, or on an engine bay door for the least amount impact on the airframe, and maximum visibility.
FuselageFlasher comes together with AeroFlash Fusion.
Fusion
-noun
"the result of joining two or more objects together to form a single entity"
Nexus' little brother, Fusion, is the heart for the control of the FuselageFlasher.
Fusion systems are available in three variants:
Fusion – connectable to Flarm via Nexus.
Fusion LITE – stand-alone version, not connectable to Flarm or Nexus. Flashes continuously with 2-flashes per 1,5 second.
Fusion DUO – connects two FuselageFlashers to one single powerbox, connectable to Flarm via Nexus.